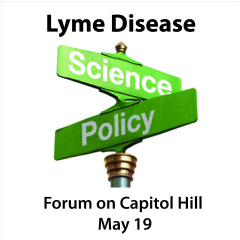 Lyme disease is the fastest growing vector-borne illness in the United States. Yet government resources currently allocated to research and patient support do not meet the needs of the growing population affected by this disease, with more than 300,000 new cases annually.
To bring attention to the challenges posed by the epidemic of Lyme disease and associated tick-borne illnesses, the Lyme Action Network will host the Lyme Disease Science and Policy Challenges forum on May 19, 2016. The forum will take place from 3-6 p.m. at 2325 Rayburn House Office Building, Washington, DC 20515.
Speakers include experts from the fields of microbiology, pathology, molecular medicine, integrative medicine, diagnostic testing, patient advocacy and government oversight. Presentations will highlight leading-edge science and new approaches to diagnostics and treatment that have the potential to save billions of dollars in preventable health care and disability costs. Case studies of the Centers for Disease Control and Prevention programs for Lyme disease will illustrate the need for more effective oversight and for comprehensive reforms that address the underlying problems and controversies.
Program
Social and Economic Impacts of Lyme Disease
Allie Cashel, Author of Suffering the Silence: Chronic Lyme Disease in an Age of Denial
Integrative Medicine for Tick-Borne Diseases
Ronald Stram, MD, Stram Center for Integrative Medicine
Government Oversight and Policy Challenges
Jenna Luche-Thayer, Advisor on Government Accountability
Microbiological Challenges of Tick-Borne Infections
Holly Ahern, MS, MT(ASCP), Associate Professor of Microbiology, SUNY Adirondack
Next Generation Tests for Tick-Borne Diseases
Tammy Crawford, Focus on Lyme (Translational Genomics Research Institute)
Lance A. Liotta, MD, PhD, Medical Director Clinical Proteomics Lab, George Mason University (Ceres Nanosciences)
DNA Imaging Confirmation of Borrelia Infection in Seronegative Lyme Patients
Alan B. MacDonald, MD, Dr. Paul H. Duray Research Fellowship Endowment
This event is open to the public and there is no charge to attend, although registration is required. Click here toRegister.
The forum was organized by The Mayday Project Lyme patient advocacy group. According to Mayday Project co-founder Allison Caruana, "We are pleased that Lyme Action Network has agreed to serve as the host organization for this forum. With back to back events in four locations, this change allows Mayday to focus resources on the May 19 "We the People" rally on Capitol Hill, and the solidarity rallies at the Centers for Disease Control and Prevention (CDC) and the Infectious Diseases Society of America (IDSA) headquarters May 20."
"We are delighted with the opportunity to host this forum," says Lyme Action Network President Chris Fisk. "We want to draw attention to the social and economic devastation due to the mishandling of this epidemic by the medical establishment and federal agencies responsible for protecting public health. And we want to explore solutions that will offer relief to the millions affected by what is one of the greatest threats to public health since the AIDS epidemic."
About Lyme Action Network
The Lyme Action Network provides information and resources to the public and medical practitioners for Lyme disease and associated tick borne illnesses. Lyme Action Network's initiatives include public education, patient support, professional education, and advocacy campaigns.
For more information, visit: www.LymeActionNetwork.org